Row as New Zealand spends thousands on South Korean mud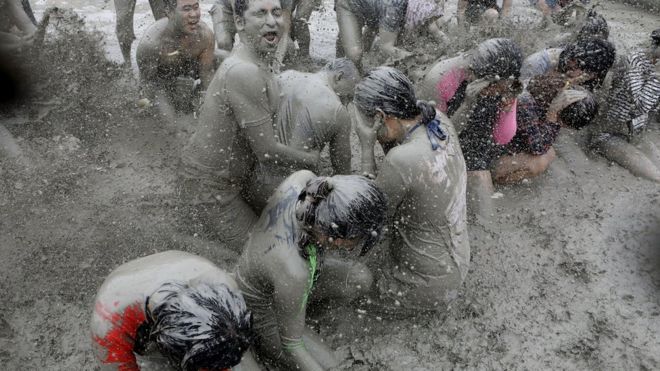 An unlikely row is brewing in New Zealand, where it has emerged that thousands of dollars of taxpayers' money has been spent importing mud from South Korea for a music festival.
The organisers of Rotorua's forthcoming Mudtopia festival have spent NZ$90,000 (US$68,000; £51,600) on five tonnes of mud powder from Boryeong in South Korea, Stuff.nz reports and, according to the council in the North Island town, it represents good value for money.
Local officials explain that the five tonnes of mud will be enough for the next five Mudtopia events, where mud and music will come together in an unlikely and messy fusion this December, saying that the money has come from a central government grant that will eventually be covered by ticket sales.
And there's a very good reason why organisers have decided on a superior imported product, Rotorua local councillor Trevor Maxwell tells the New Zealand Herald. "I know there's a perception that Rotorua has enough mud, but you can't just pull any old mud out of the ground and throw it at people. There could be anything in there that could end up making people sick."
However, the imported mud will only make up about 15% of the dirt on display, with muck from a local quarry making up the rest, says the New Zealand Herald. The South Korean variety "will give Mudtopia visitors a different type of mud for a hands-on experience," organisers say.
Coals to Newcastle
However, the decision was met with almost predictable derision on social media, with users criticising both the cost and the potential implications for the country's notoriously tight biosecurity policy.
"What a pack of incompetents… Fancy buying MUD. South Korea laughing all the way to the bank," said one Facebook user. "I hope this is a joke. You and me can't walk into customs with dirt on our shoes but the govt imports mud?" said another.
Others thought that the council should be pursuing local problems first: "They gonna build some mud houses to house the homeless?" one user asked.
A spokesperson for the New Zealand's Taxpayers' Union pressure group also thought the expenditure was "beyond imagination". "It's like Dubai importing sand for a desert festival," Matthew Rhodes was quoted as saying.
Making millions from mud
One place where the request for mud has gone down very well is Boryeong (also known as Daecheon) in South Korea, which is celebrating its sale to the New Zealand Mudtopia organisers.
Boryeong is home to its own successful mud festival which has "developed into a top international summer event with its mud flats attracting many tourists from around the world", the Korea Herald reports.
The ten-day festival, currently underway on the country's west coast, features a huge mud tub, a marathon on the mud flats, parades and pop concerts.
Last year's event drew around four million people, including over 400,000 foreign tourists, bringing 73bn won (US$65m; £50m) to the region, KBS Radio reports. It's those figures which have caught Rotorua's eye, with the hope of attracting the tourist dollar.
"It's not ratepayer money, so give us a break. It's all about putting together a fun event to attract more people to our lovely district," Rotorua's Trevor Maxwell says.
Read more at out Facebook Page: facebook.com/scanwellvietnam